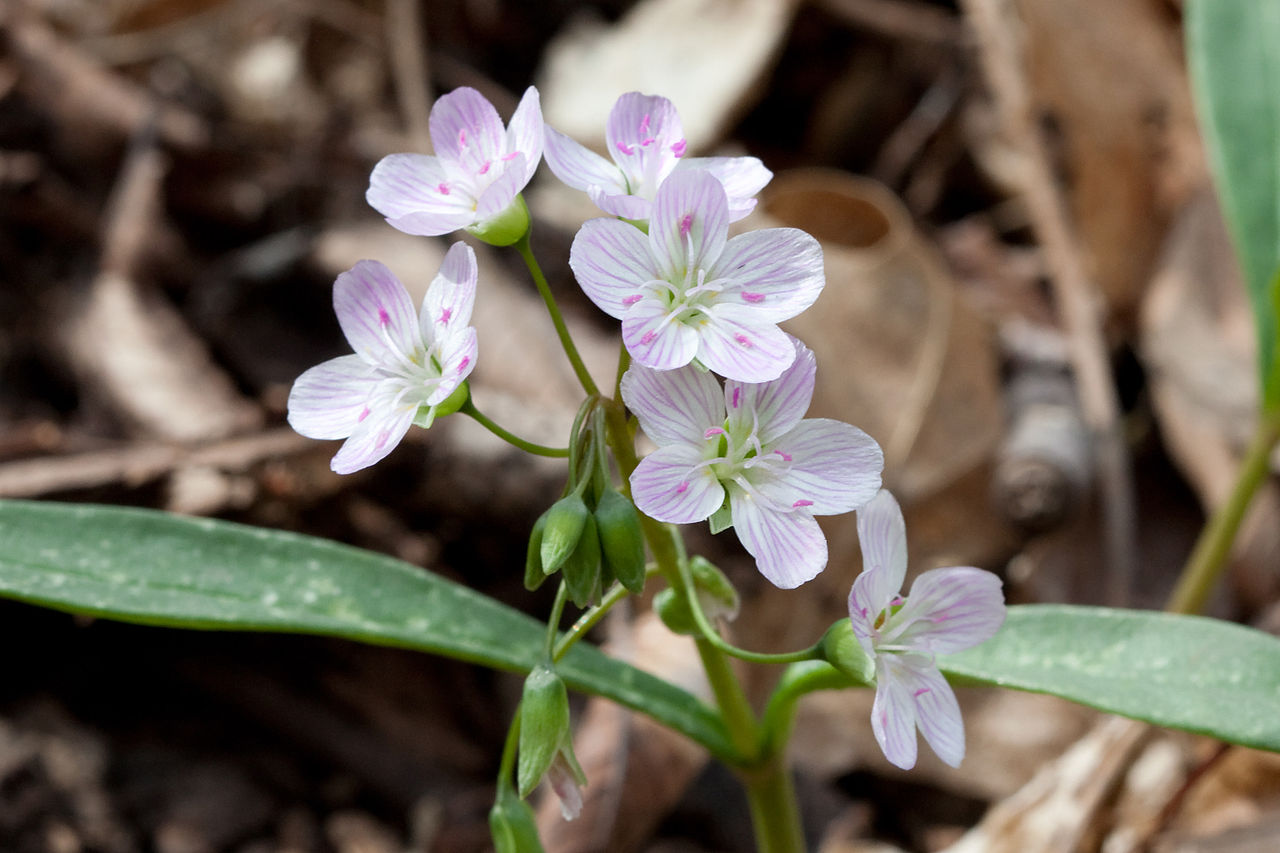 Spring beauty is one of the earliest wildflowers to appear and it really lives up to its name! Look at those beautiful little flowers. The first leaves can emerge in late February and the flowers bloom from March through May. In April the woodlands are alive with a living carpet of spring beauty…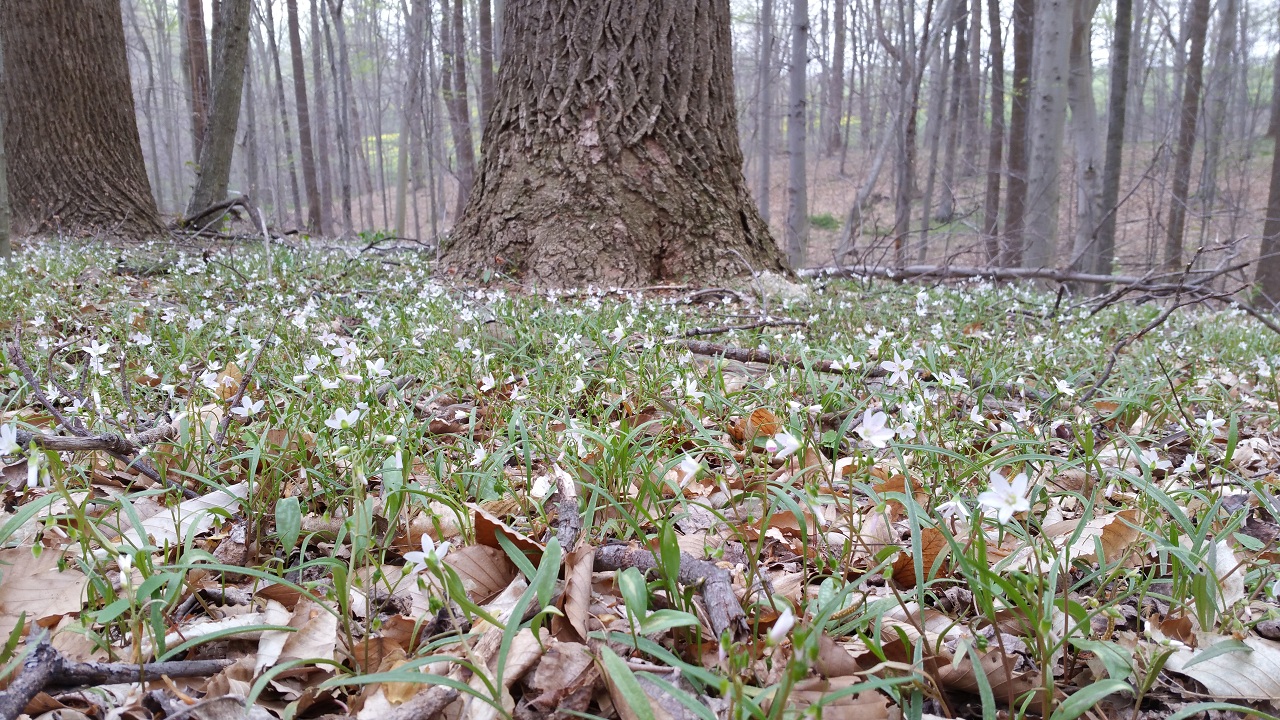 Spring beauty is classed in the miner's-lettuce family Montiaceae (it was formerly classed in the purslane family, Portulacaceae). In the eastern temperate forests bioregion, there are principally two main species: Claytonia virginica, the Virginia spring beauty, and Claytonia caroliniana, the Carolina spring beauty. The Virginia spring beauty is narrow-leaved; the leaves of Carolina spring beauty are decidely broader. Flowers in both species range from white to pink and everywhere in between.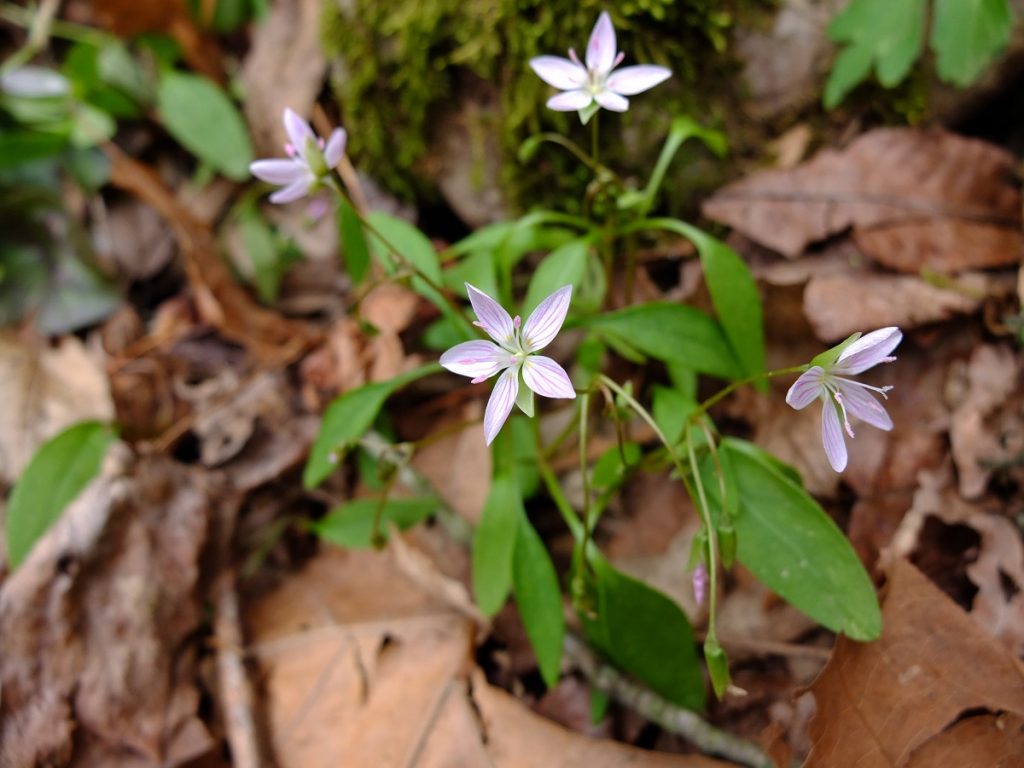 Within Claytonia virginica, there are two yellow-flowered varieties. One, Claytonia virginica var. hammondiae, is limited in distribution exclusively to a small area of northwestern New Jersey. Another yellow-flowered variety, Claytonia virginica f. lutea, is endemic to parts of Pennsylvania and Maryland.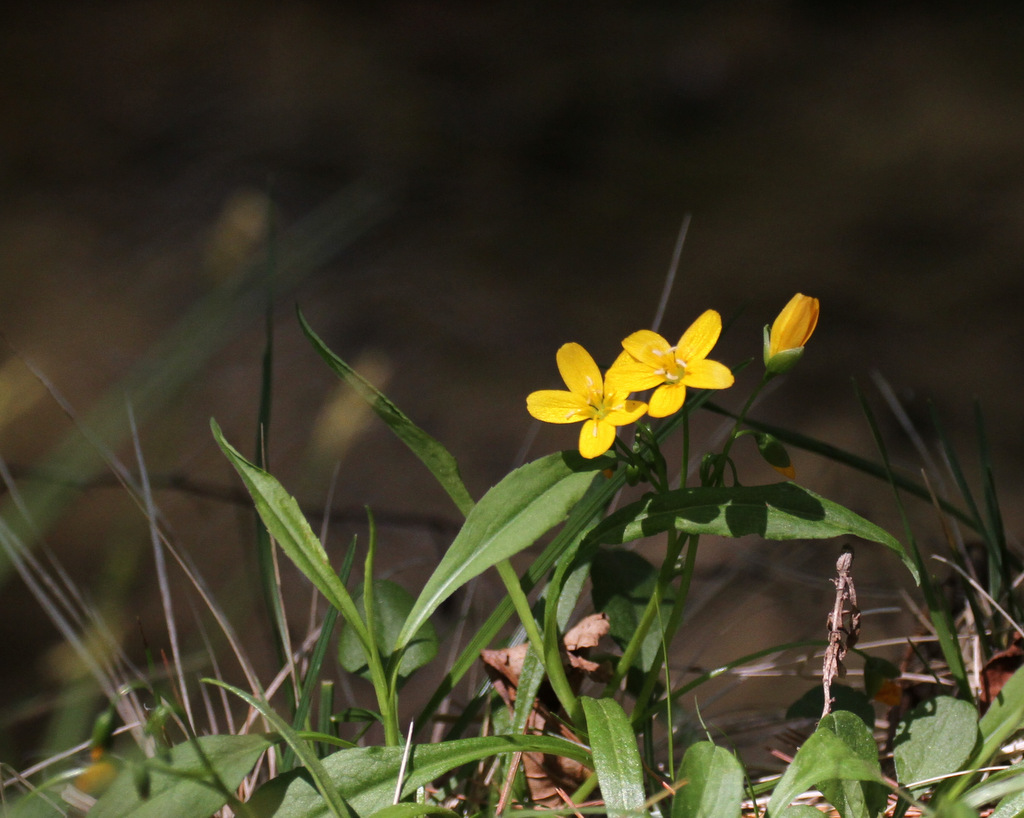 To the Ojibwe of the Great Lakes region, spring beauty is known as meeautikwaeaugpineeg in the Anishinaabemowin language. To the Gosiute of the Great Basin, it is known as dzina in the Western Shoshone language.
The western species include Claytonia lanceolata the western spring beauty, Claytonia umbellata the Great Basin spring beauty, and Claytonia megarhiza the alpine spring beauty, and several others.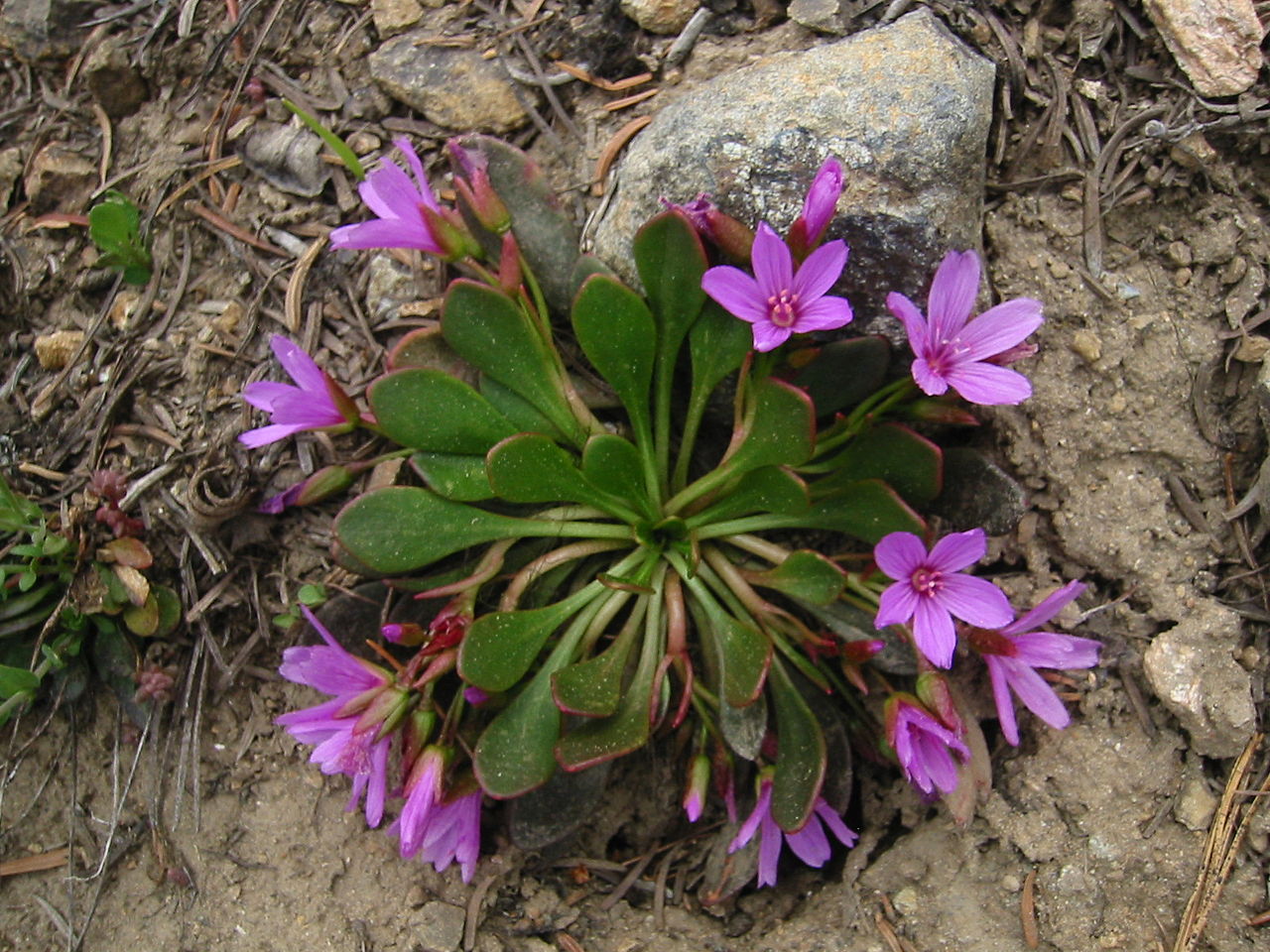 Tommy Stoughton, a PhD student at Plymouth State University in New Hampshire has an excellent website, Claytonia.org. His website features many of the western species and has research highlighting taxonomy and phylogenetics. I particularly like his page on Claytonia ogilviensis which is found among the Ogilvie Mountains of Canada's Yukon Territory. Check out its tuber!
As a food, Claytonia is simply excellent. Rich in starches as well as the vitamins A and C, the tuber is a staple food and has a cooked flavor much like a buttery potato or a chestnut. Eaten raw, the flavor takes on stronger tones. There is a mild bitterness or spiciness if the brown papery skin surrounding the inner white flesh of the tuber is eaten. The tubers are typically fairly small (it has another common name "fairy spuds," after all), generally ranging in size from a grain of corn, a garbanzo bean, or to the diameter of a quarter. In the case of ideal growing conditions or long age, the tubers can become larger still. I have found some nearly the size of my fist! Larger and older tubers have many more stems and leaves and flowers than the younger ones.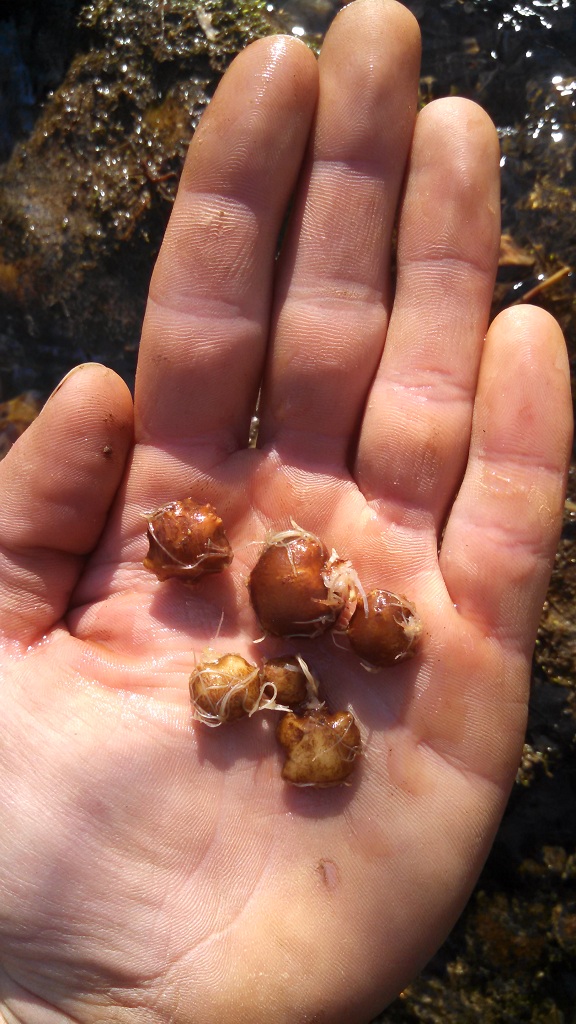 Besides the roots, the stems, leaves, and flowers are all nutritious. Every bit of the plant is edible. My preferred method of preparation is cooked whole: roots, tubers, shoots, leaves, and all. Boiled in water, lightly salted, and served. Mmm!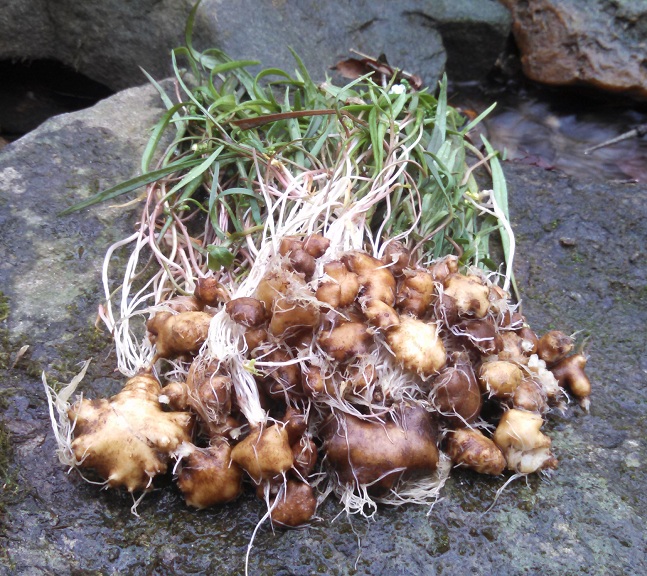 In my experiences with different species of Claytonia, I've found there can be substantial differences. The roots of Carolina spring beauty are darker and purpler than the tan or brown roots of Virginia spring beauty seen above. The Carolina's purple coloration like a beet, comes from a plant flavonoid pigment called anthocyanin. The presence of high anthocyanin content in the root coloration could be an indicator for more phytochemistry happening in the plant, as compared with the Virginia species. The flavor of the broadleaved Carolina spring beauty is superior to the narrow-leaved Virginia spring beauty, in my estimation. It is richer, with less harsh overtones, and has a sweetness to it. Also, the leaves of Carolina spring beauty are decidedly superior to Virginia spring beauty — they are sweet and succulent very much like miner's lettuce, if that is a reference you can relate to (miner's lettuce is found within the genus Claytonia too).
Propagation of this springtime wildflower is straightforward, but collection is a little tricky. After the flowers have been pollinated and begin to fade away during the month of May, the petals fall off to reveal a small seed capsule clasped between the sepals.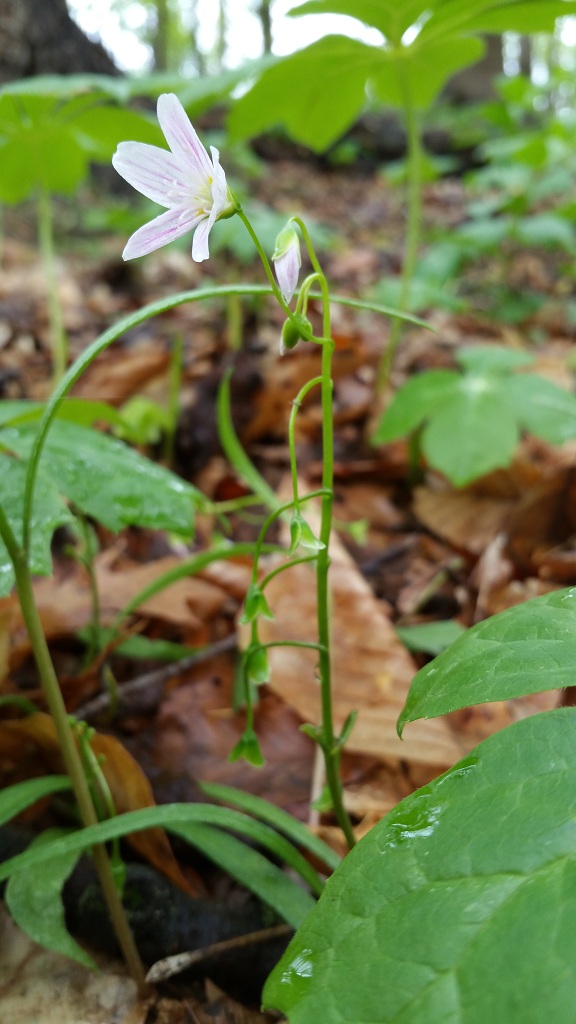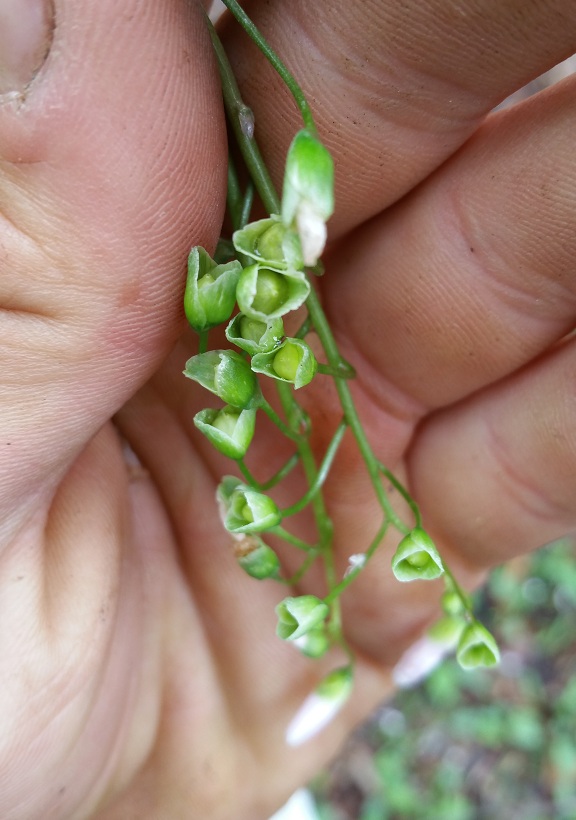 In early May, the seed capsules still need about a week or two to ripen and mature. This happens from the top of the plant downwards. When mature, the capsule splits open, catapulting tiny black seeds in every direction! They can end up two, three, even four feet away from the parent plant. An excellent dispersal tactic.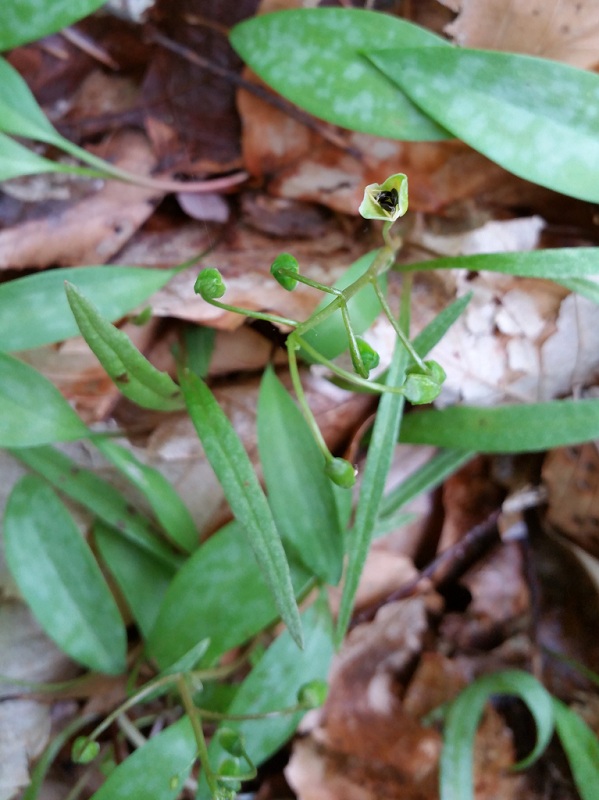 To collect the seeds, gather the whole stems of spring beauty after the spherical seed capsule clasped within the calyx has begun to turn brown (these seed capsules are seen in the photo three pictures above). At this point, around mid- to late-May, eruption is imminent, so leave the stems in a bag or a box. As each capsule explodes, the seeds remain caught inside of the bag or the box.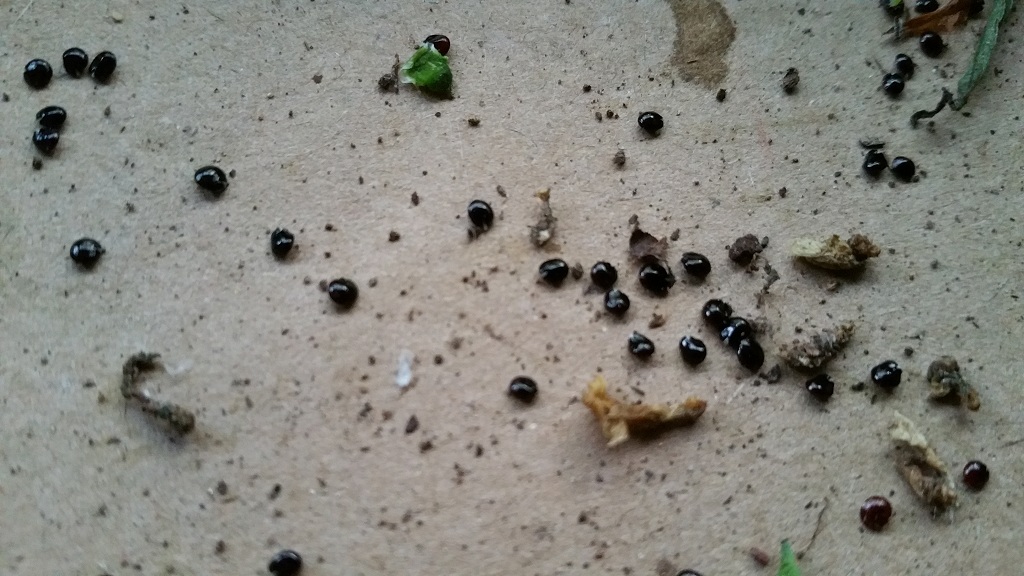 Wildflower propagation guides say that Claytonia virginica seeds contain an elaiosome: a small attachment made of fats and sugars attractive to ants who aid in dispersal. On the face of it, I've had my doubts. Any elaiosome present may be so tiny as to be scarcely perceptible — is it really there? And why enlist the aid of ants for dispersal when the plant already catapults seeds feet away, anyhow? It turns out my skepticism is unfounded, though: ant foraging behavior of elaiosome-laden seeds has been observed for Claytonia virginica. It seems this is a double-strategy. First they catapult their seeds far and wide, then thanks to the elaiosomes, ensure they find a safe resting place in moist, cool ground prior to germination.
Because of the elaiosome, seeds of Claytonia virginica cannot dry out or they rapidly lose viability. They must be kept moist and in a cool, dark place. (It is worth noting that the western species such as Claytonia lanceolata and C. megarhiza have seeds that do tolerate drying. This makes sense when we consider the habitat of western spring beauty species — dry, hot summers characterized by seasonal droughts.) Virginia spring beauty seed is double-dormant before germinating.
Spring beauty's value as a food source makes it is a great candidate for ecological plantings and rewilding back into the landscape as a first food. Among the many virtues of spring beauty is its ability to grow nearly anywhere. They will grow in shade, as well as in meadows with full-sun. They grow in lawns and along roadsides. They grow under brambles and thickets. They grow beneath the mature canopy of an old-growth forest. They grow in dry, rocky soils and naked mountain slopes.
In the places where spring beauty is found, its abundance can be overwhelming. In places where it is not, its absence can be eerie. Spring beauty has been removed from the soil seedbank in many landscapes that have been overgrazed by cattle, trodden by pigs, or destroyed through years of plowing and annual agriculture. The recovery in such places of a native seedbank alongside a healthy, diverse, and regenerative ecology is a process excruciatingly slow. Perhaps there will never be a full recovery. With human aid however, we can help rebuild what was once destroyed and strengthen what now remains. Spring beauty can help us do this — and we can help it.